Extending functionality of DOORS Next Generation and IBM Jazz Platform - Widgets and OSLC
Put Your IBM Engineering deployment on the fast track
Many customers who have worked with IBM Rational DOORS in the past will remember the ability to create unlimited extensions to the IBM product using the DXL programming language.
This is no different with IBM Engineering. Here there is no migration of DXL scripts, but the possibility to use modern technologies based on REST services and JavaScript. Access to modern technologies and their application in IBM Engineering allows to add new features to the product and provides the possibility of automation.
The IBM Engineering platform allows to extend its functionality in various ways. Among the most popular are Open Service for Lifecycle and Widget technology based on Google Open Social Gadgets. Both technologies allow integrating the IBM Engineering platform with other systems and creating automations or extensions that run within the platform itself.
As part of the services provided, we create extensions to products based on the Widget mechanism and OSLC interfaces. We have a team of developers who can create solutions that are sure to meet the needs of any demanding customer.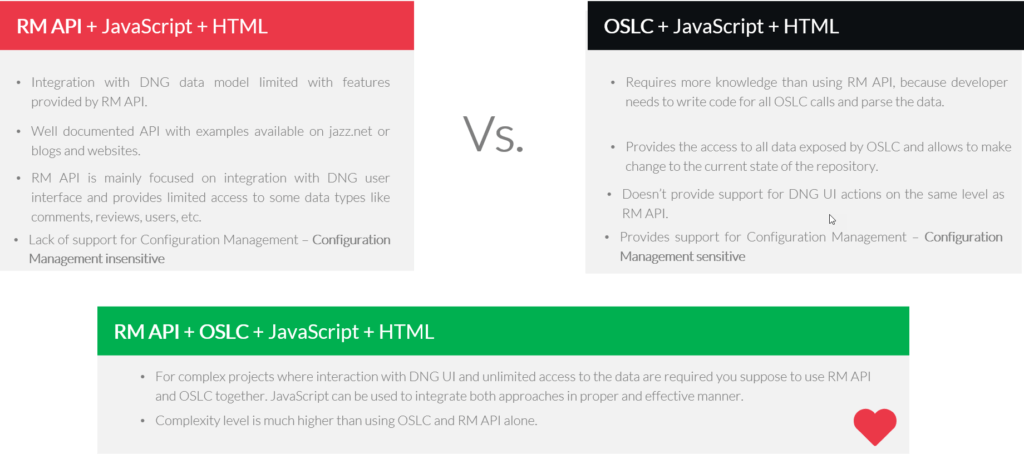 We can also help clients to reverse engineer extensions they have used in IBM DOORS that are missing from IBM Engineering Requirements Management DOORS Next, or build entirely new extensions that extend the functionality of the IBM tool.
Extending the functionality of IBM Engineering scope in-depth
Development of extensions based on the Widget mechanism for IBM Engineering products according to customer needs and requirements

Creation of extensions and integrations based on OSLC (Open Services for Lifecycle) between customer's systems and IBM Engineering

Conducting workshops to create custom extensions (widget) and extend the functionality of IBM Engineering

Consulting services for extension and creation of software on the platform IBM Engineering
Please contact us for more information or to discuss if the service makes sense for your company.
related to Extending functionality of DOORS Next Generation and IBM Jazz Platform - Widgets and OSLC​
Please send us your contact details and we will get in touch with You