IBM Rational Publishing Engine (Engineering Publishing) - Report Development
Put Your IBM Engineering deployment on the fast track
Implementing a solution to support system or software development processes requires the creation of appropriate reports in the form of documents that meet organizational requirements, market norms and standards, or regulatory requirements.
A solution that meets these requirements on the IBM Engineering Platform is IBM Engineering Lifecycle Optimization – Publishing (or IBM Rational Publishing Engine), which enables the automation of document creation from IBM Engineering Platform products and other vendors via interfaces based on REST and XML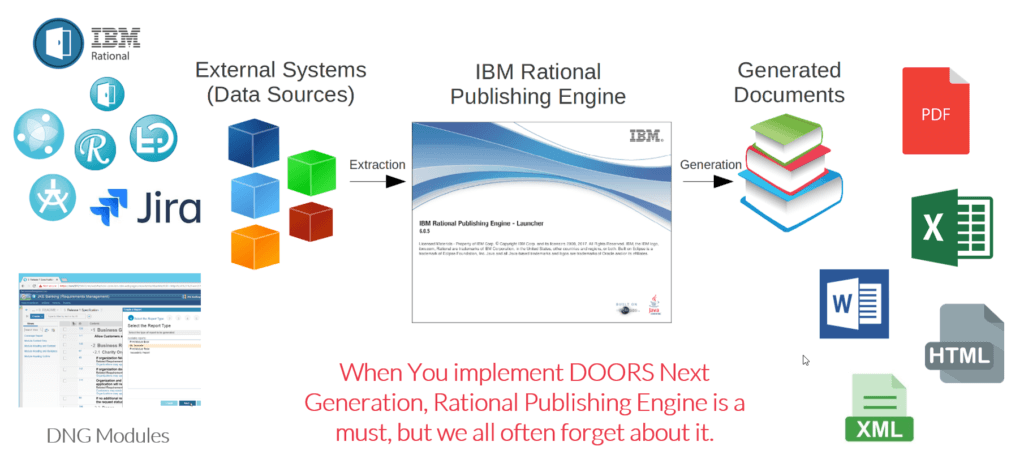 Built-in features extract data from a range of data sources to reduce manual work and reduce the risk of errors. Out-of-the-box templates get your projects up and running faster. A suite of tools offers intuitive features such as drag-and-drop, and launch and preview functions. Due to the complexity of report creation and the interfaces themselves, we offer our customers to create reports based on the templates they provide.
During the report creation process, we work with the client to ensure that the final document meets their exact requirements and is produced in the shortest possible time.
As part of the service offered, we can provide experts to work with the client on longer projects for maintenance and development as well as report creation. We can also work in an ad hoc model, providing solutions when they are needed without incurring unnecessary costs.
IBM Engineering Publishing Report Development Scope in-depth
Creation of reports based on supplied templates (Word, PDF)

Continuous development and maintenance of reports to meet customer requirements

Implement IBM Engineering Document Builder and migrate reports from IBM Engineering DOORS Next, Test Management or Workflow Management.

Maintain and develop current reports in IBM Rational Publishing Engine

Optimization of current reports created in IBM Engineering Publishing

Training in the use of IBM Engineering Publishing (Rational Publishing Engine)
Please contact us for more information or to discuss if the service makes sense for your company.
related to IBM Rational Publishing Engine (Engineering Publishing) - Report Development​
Please send us your contact details and we will get in touch with You